WELCOME TO THE SOCIAL BYTE - OUR SOCIAL MEDIA NEWS DIGEST. A PLACE TO EXPLORE THE BIG NEWS STORIES IN THE WORLD OF SOCIAL MEDIA.
The Linkedin upgrades, IGTV and Facebook subscriptions are all covered in this week's Social Byte.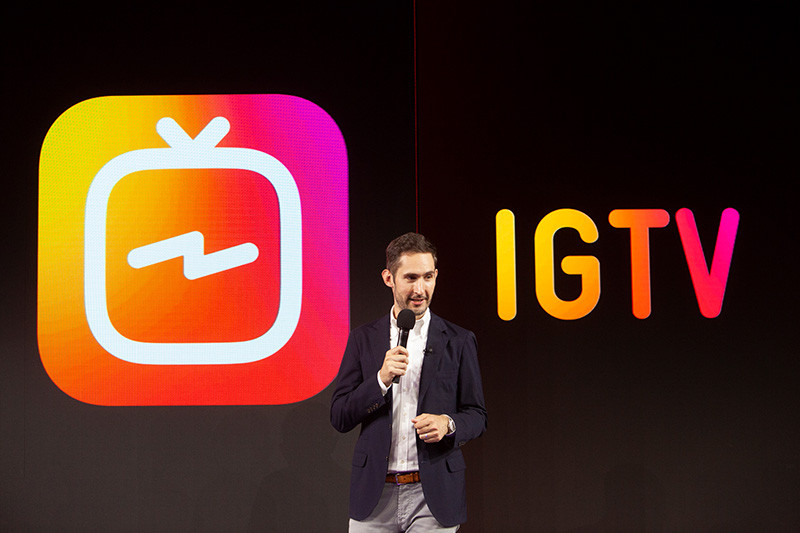 Instagram's newest feature
On 20th June, Kevin Systrom - Co-Founder & CEO of Instagram - addressed the world and a room full of influential people about the newest development on Instagram, IGTV. Systrom states that "it's built for how you actually use your phone, so videos are full screen and vertical. Also, unlike on Instagram, videos aren't limited to one minute. Instead, each video can be up to an hour long."
Critics believe that IGTV could rival YouTube. We find this hard to believe as many successful YouTube creators such as Lele Pons, Lilly Singh and King Bach have embraced the new platform whilst still continuing with their YouTube careers.
However, IGTV could be a game changer for new creators and, more importantly, businesses. This will be a brilliant way for your customers to find out more about you and your service and could be more personal. We are living in a time that loves a personality (Hence the rise in reality TV and daily vlogging) so if you can show that off online, there is a higher likelihood that people will follow you.
To create content for IGTV, you could film a video - not shorter than 15 seconds - directly from your phone or you could re-edit previous video content. If you do decide to re-edit or even to film it on a DSLR, we recommend using the dimensions 1080px by 1920px (or aspect ratio of 9:16) for the perfect IGTV size.
This is a feature that would work well for most business types. If you have something to show, promote or explain, IGTV would be perfect for your business.
Over the last month, Linkedin has introduced ways to make the platform a happier place to be. This benefits all users and could help managers boost team morale. All of these features are available in America but should be available in the UK soon.
One of Linkedin's new changes means that you can positively affirm your employees. They have done some research that found that "seven out of 10 employees who receive appreciation for their work say they're happy with their jobs." The new kudos feature will help you to build stronger bonds with your team and give them your appreciation. Go on, share some appreciation today!
Just like Instagram, Linkedin now allows you to add text and stickers to your video content. This is in an attempt to make the businesses on the platform have more of a personality. Unlike most social media platforms, Linkedin has thrived on being a business-based platform that professionals used to get their next job, deal or collaboration. However, times have changed and Linkedin is looking to adopt some features that are more synonymous with sites such as Instagram to help to maintain their growth.
We think that both of these features are great steps for Linkedin and will make the use of the app more enjoyable for averages Joe's like you and me.
On 30th June, it was World Social Media day! It's good to be in the know of how your audience is changing online so you can advertise and post more effectively.
In 2017, over 130 million TV-related tweets were sent from 4.2 million unique authors, accounting for just over 7% of UK TV viewers. - Kantar
For example, posting about popular TV programmes or Netflix series could get you more likes and engagement because us Brits love to talk about telly whether it's The World Cup, Corrie or Stranger Things, we can't help but post about it.
(The following statistics are all based on a recent research carried out by Kantar.)
Depending on your demographic, you may want to consider using influencer marketing. Younger people respond better to pop culture figures than older people do. This will have a 16% greater impact in brand awareness on younger people than your normal posts or advertisement will.
We suggest regularly searching the internet for any new trends that will affect your target audience, this will be a brilliant way to stay relevant to your customers. A simple way of doing this is by looking on your Twitter and see what is trending in the UK.
Introducing Facebook Subscription Groups
Facebook are piloting paid subscriptions with a small number of groups to further support group admins who lead these communities. This was created after many group admins were looking for ways to monetise the communities that they have created. If the pilot goes well, we could start to see more members-only content being available from $14.99 a month with the option to cancel at anytime.
This could be lucrative for businesses who want to offer training sessions, insider information or hints and tips to their customers. Facebook have said, "As we learn from this pilot and understand how group members feel about subscription groups, we'll continue to improve this experience to help admins offer more to their members and continue to invest in their communities." We look forward to hearing more about this new release.
That is it for this Social Byte and we'll be reporting back soon with more Social Media news.
Like this blog? Why not follow us on Social Media?